These Tillamook Bay springers were taken by John Van Lydegraf last May on a green dot spinner.
This 7 foot, 300 pound sturgeon was caught by Dennis Richey in the Columbia R. The fish was landed in 25 minutes. A short battle insured that it would not be harmed by an extended struggle. Anglers are helping reduce spawner mortality by not exhausting these huge fish. A major reduction in dead "oversize" sturgeon is due to a change in gear, shorter fighting times, and the exclusion of bank anglers in the upper spawning areas below Bonneville Dam. (Most bank anglers have to take much longer to land an oversize, resulting in a severe lactic acid buildup in these fish, which can cause a stoppage of their spawning or death.)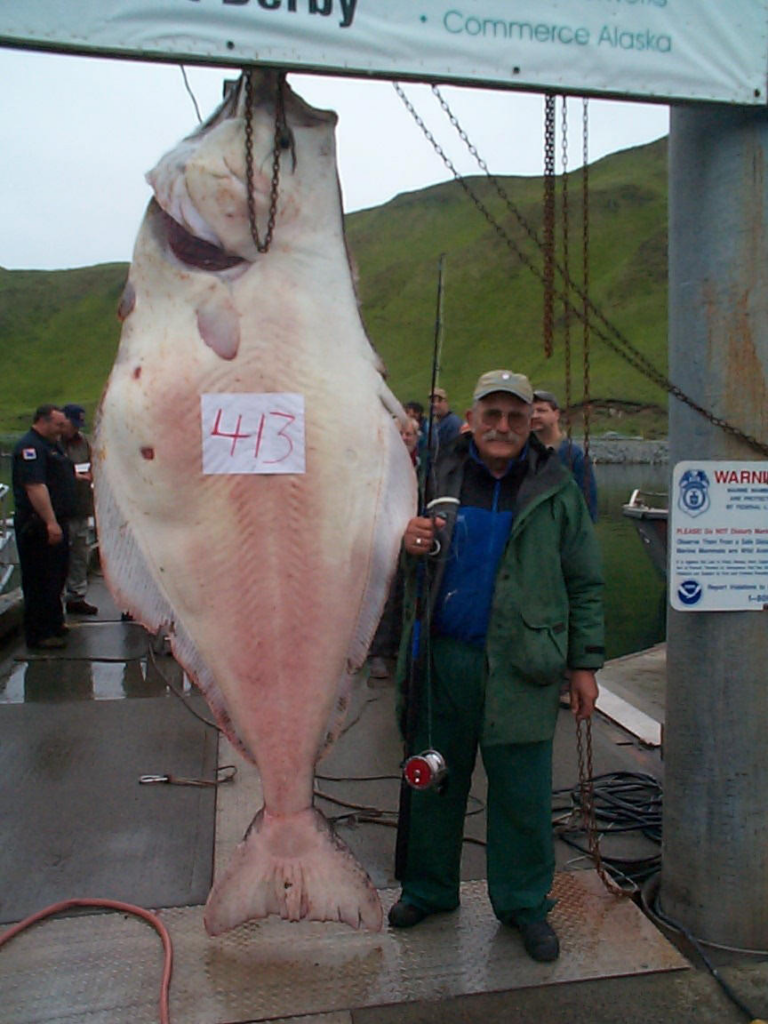 Jim Johnson of the Salem Steelheaders and his 80 pound test world record halibut. Yes, it was caught in Alaska.
My first light tackle Marlin. Caught off Loreto, Mexico on a trip with the Oregon Fishing Club. It died while trying to revive it for release. Much longer and I would have been the one they were trying to revive! We were trolling for Dorado at the time. (Dennis Richey, Executive Director)
Fred VanNatta (OA's Legislative Director), Senator Rick Metsger, and Dennis Richey
limited out in guide Steve Smith's boat on large coho. Biggest fish of the day weighed in at
15 pounds after bleeding.
Fred, Clair Fox, and guest w/ Chicken Ranch halibut
A N. Santiam wild winter steelhead. Below is the proper way to hold for a picture before releasing.
Shawn Richey with a November coastal Chinook
Can you remember the great year of 2002?
The limit for steelhead was 3 on the Clackamas River.
Denny with his morning's limit caught on his home made jigs.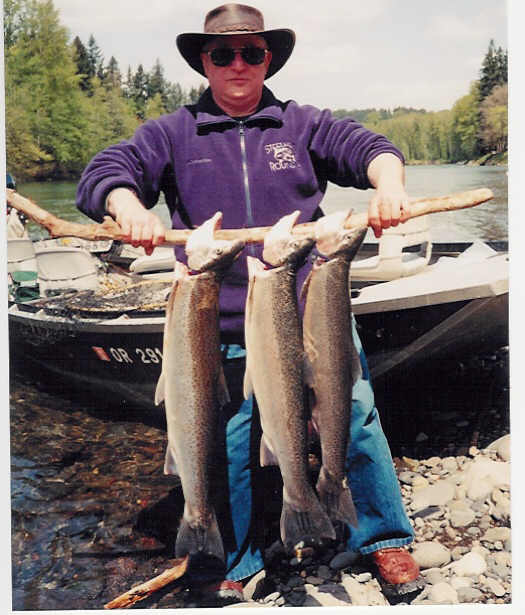 Dale VanLydegraf with a keeper Columbia River Sturgeon.
One of his guests show the amorous end on his catch.
Dan Negley with one of his 2 Fall Chinooks with guide Wayne Priddy
The two co-founders of Oregon Anglers, Denny & Fred with their limits
of Fall Chinook during the North Coast Rendezvous, 2004.
Shawn's trip to Colorado: